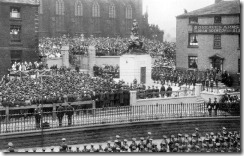 Update: This post has now appeared in the Oldham Chronicle as can be seen on the Web Apps Website.
In Oldham we seem to find it easy to focus on the negatives, but having attended a number of events showcasing plans for regeneration, it's difficult to feel anything but positive. Oldham is pushing forward, to show that it's no longer a dusty old mill town but a place of real innovation and growth, bringing a brighter future to everyone in the borough.
This is exemplified by the recent opening of the Mahdlo Youth Zone which aims to raise the aspirations of Oldham's young people. Outstanding educational institutions such as Oldham Sixth Form, Oldham College and University Campus Oldham are ensuring a skilled workforce for the future. These skilled young workers won't need to go far for incredible career opportunities either.
'Invest in Oldham' is a pro-active movement by Oldham Council to attract business to the area. At the launch event at Gallery Oldham in March, potential financiers were shown reasons why they should view Oldham differently: including its great location, great people, great infrastructure and great businesses.
It was here that the Hotel Future project, a luxury hotel doubling as a full time vocational training centre was unveiled. The £40 million project is a world first and will create hundreds of new jobs and apprenticeships for the area. The expected location is next to the Queen Elizabeth Hall which will itself be renovated to create a new Civic Square rivalling Bolton's Victoria Square and Manchester's Albert Square.
Our Grade II listed Old Town Hall is currently part of restoration plans. In 2010, workmen began to repair the inhabitable building, creating a base for future developments. A range of options are now being considered, including a family facility similar to Manchester's Printworks. It's great to see the Council looking to regenerate rather than focusing on cutbacks.
By 2014 when these projects will be nearing completion, the new Metrolink will be in place; connecting Oldham to Central and Greater Manchester. Bringing great transport links to the town will encourage businesses to the area. The temporary line to Oldham Mumps is set to open very soon meaning Oldham's infrastructure is steadily improving.
The next few years will be critical to restoring the prominence Oldham once held. These are exciting times for the entire borough and as Oldham president of the Greater Manchester Chamber of Commerce, I welcome the fundamental changes needed to see the town flourish.
With the Olympic torch arriving in the borough on Sunday 24th June, let's make sure the nation sees a positive Oldham focused on the future. We need to believe in our town, otherwise, who else will?
For more information about investment opportunities in Oldham see www.investinoldham.com .