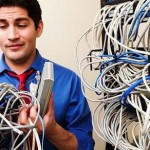 OK I'm not going to lie to you, there's no way to sugar coat this…
I despise the Domain Registration system.
Can't help myself. I've owned thargy.com and unclecraig.com for well over 10 years and every year I go through the same renewal hell of trying to figure out who owns what – requesting transfers and all the unnecessarily messy rubbish that the industry subjects it's users to. It's not that I'm a 'search for the cheapest deal' masochist, it's purely that I have a great habit of backing losers when it comes to the great registrar consolidation world war that has raged continuously over the last decade. I have genuinely lost count of the times that one of my registrars or hosts has changed hands, such that my host, and domains all exist with different people. I genuinely hate Domain Registration.
Well enough is enough, I've finally decided to combine everything onto GoDaddy.com. I strongly suspect this is a decision I will live to regret (going on previous form) and certainly my initial experience has been somewhat typically hellish. After many hours of work, numerous support tickets raised, etc. (at one point I even got sent a completely blank EPP Key/Authorization Key in a friendly email) I have at least registered my transfer of thargy.com and have attempted to begin the process of transferring unclecraig.com (though success there remains firmly in the balance).
I am hoping to move this WordPress to GoDaddy, and transfer everything (including CloudFlare CDN support) over in the next week. I figure there's no time like the present, after all my subscriber count is still very low.
With luck there will be no noticeable interruption, however if the inevitable happens and the site is down, please bare with me as I hope to get it back up and running as soon as possible!
I have some great blogs posts planned for when everything settles down so I hope your persevere.